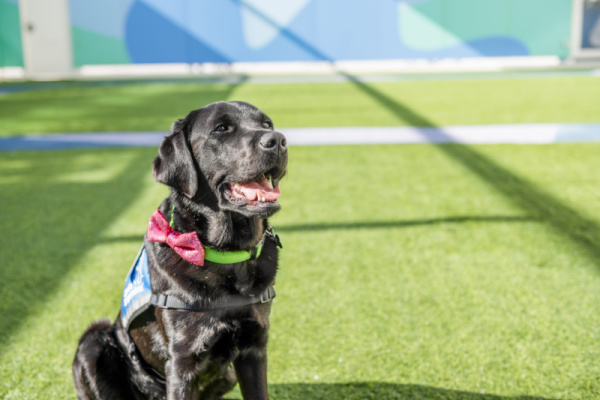 Silly, spunky and sassy, with claws painted purple by a patient, Odessa is the newest CHOC resident dog and is believed to be the first resident dog in the nation solely dedicated to a pediatric inpatient mental health unit and handled by a child life specialist.
Given the impact of the COVID-19 pandemic on pediatric mental health, Odessa's arrival to the Cherese Mari Laulhere Mental Health Inpatient Center at CHOC comes at a critical time.
Since March 2020, the number of patients in the unit, designed to stabilize patients in a crisis, has been consistently higher than previously, says Dani Milliken, director of the unit.
Additionally, the average length of stay for patients in the unit has seen a consistent increase since March 2020, Dani says. This is attributed to an increase in acuity for patients, as well as complex psychosocial dynamics that might prolong admission. While a typical stay may be three to five days, some months saw an average stay of 10 days for some patients.
"This indicates that children are coming into the unit much sicker than before and it's taking the team longer to stabilize them," Dani says.
Growing the unit's toolkit
A black Labrador and golden retriever mix, Odessa's calming presence brings an additional resource to the unit's expert, specially trained staff as they work to treat patients as young as 3 experiencing a mental health crisis.
"Odessa is a wonderful addition to the Cherese Mari Laulhere Mental Health Inpatient Unit," Dani says. "Already, our unit is such a contrast from many misconceptions of an inpatient mental health facility: It's filled with light, music and laughter. On top of that, Odessa brings an additional element of love and support to a unit focused on treating the most vulnerable of children."
While a visit from a sweet dog might cheer anyone, Odessa's work is specific and very targeted to help patients meet goals. To that end, and the team has devised a "ruff-eral" system for Odessa, taking into account patients' varying needs, says Janessa Vanden Berge, a child life specialist in the Cherese Mari Laulhere Child Life Department at CHOC and Odessa's handler.
Patients who are having difficulty coping in the unit or are experiencing distress are Odessa's first priority. These might be patients who have never been in a hospital or, more infrequently, a patient who might be in some physical pain. The second priority are patients who need support building rapport and trust with staff.
"Odessa is offering unconditional love and support," Janessa says. "We are building that trust back up. Sometimes kids don't want to talk to grown-ups but will open up and start sharing with her. It instantly shifts their mode. It's so sweet to see that and how their mood changes and they instantly have a smile on their face."
Odessa might also support patients who need help with their daily life activities such as taking a shower, brushing their hair or brushing their teeth – things that might seem simple and basic to some, but that really might be incredibly difficult for a child experiencing a mental health crisis.
"I've had patients brush Odessa's teeth and then their own," Janessa says. "They've got to brush Odessa's fur, and then their own hair. These might not be the physicians' no. 1 worry, but these tasks are definitely among the treatment goals."
A visit from Odessa might also serve as an incentive for a patient as they receive care – hence Odessa's fashionable purple pedicure.
Odessa and Janessa also focus on providing trauma-informed care, a major focus for the entire unit. With its five principles of safety, choice, collaboration, trustworthiness and empowerment, trauma-informed care focuses on the complex impact of trauma and how it shapes a person's efforts to cope. In short, trauma-informed care shifts the conversation from "what's wrong with you" to "what happened to you."
"Odessa and I help patients process feelings, experiences and provide hope for the future," Janessa says. "This combines my skills as a child life specialist with Odessa's skills as a resident dog to meet kids where they are and to be on this journey alongside them."
Critical support from generous donors
Bringing Odessa into the unit – and launching the resident dog program at CHOC – was made possible through founding support from the Dunkin' Joy in Childhood Foundation Dogs for Joy Program.
"The Dunkin' Joy in Childhood Foundation is thrilled to support CHOC in welcoming Odessa," says Parag Patel, California Dunkin' franchisee. "Through our Dogs for Joy program, we have seen the transformational impact of animal-assisted therapy and we are proud to help bring comfort and joy to pediatric patients and their families."
CHOC's resident dog program was also made possible through additional support from PetSmart Charities, Pastime with Purpose and several other generous donors.
"Our entire team – Odessa included! – is so grateful to these incredible donors for their support," Janessa says. "At CHOC, we strive to ensure illness or injury doesn't put childhood on pause and these donors' generous support helps us do just that."
A growing pack
Born in August 2019, Odessa underwent a two-year extensive and specialized training program with Canine Companions for Independence, and knows more than 40 commands. In turn, Janessa also underwent a matching process and a two-week intensive training program with written and practical exams.
Including resident dogs in the range of therapeutic services is a trend in children's hospitals, and resident dogs have specific tasks that support clinical goals. Across children's hospitals, full-time handlers are often social workers, chaplains, physicians and child life specialists – like at CHOC.
Janessa brings Odessa to campus Monday through Friday, and brings her back home after the workday ends and on the weekends. Odessa works hard during the week, and she plays hard on the weekend, Janessa says.
"Odessa loves to lay outside in the sunshine," she says. "That's her all-time favorite thing. She was born to be a So Cal dog. She loves to go to the beach. She is a water dog for sure. I went paddle boarding recently and she jumped right up onto the board. She has her own life jacket now."
Odessa isn't the only four-legged friend at CHOC. In addition to a robust pet therapy program supported by volunteers, Odessa joins Lois, CHOC's first resident therapy dog who works in CHOC Hospital's main patient care towers to help patients meet specific clinical goals.
Together, they are quite the pair: Odessa has a rich, shiny black coat and a goofy grin. Lois, a white Labrador-golden retriever mix, is blonde with deep soulful eyes and expressive eye brows.
But while they might look a bit opposite, they are identical in mission: helping children get the best possible clinical outcomes at CHOC.