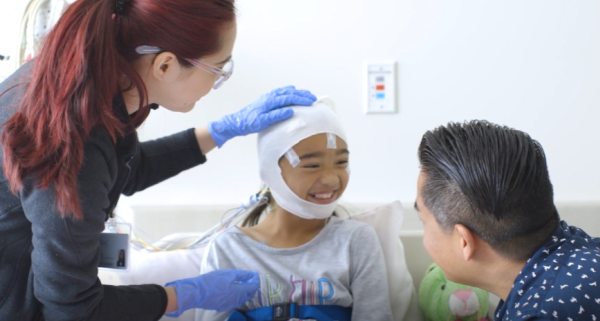 In a move that will grow its capacity to serve the region's children and families in need of sleep studies, Children's Health of Orange County (CHOC) is pleased to announce an expansion of its two pediatric sleep centers.
The health system has opened a new state-of-the-art pediatric sleep center just adjacent to its hospital campus in Orange, California. With eight outpatient licensed beds, the 3,200-square-foot facility located at the southwest corner of Main Street and W. La Veta Avenue doubles the capacity of the sleep center in its previous location inside CHOC Hospital.
Additionally, the sleep center at CHOC at Mission Hospital has also expanded, growing from three to four private beds. This important growth will provide more access to children with complex medical conditions who need additional support during a sleep study.
"When a child needs a sleep study, parents want to go an exceptional pediatric center– and CHOC has established just that with our two American Academy of Sleep Medicine certified sleep labs," says Dr. Neal Nakra, a pediatric pulmonologist/sleep medicine specialist and medical director of the CHOC pediatric sleep program. "At CHOC, we understand that children are not small adults. They require the specialized equipment and expertise we offer, in the serene and child-oriented environment of our two sleep centers."
The center in Orange was designed and constructed with safety and an enhanced patient experience top of mind. Each private bedroom is equipped with an additional bed to allow a parent or guardian to stay during the study.
Additionally, the space is designed to be soothing, calming and child-friendly. Wall graphics depict scenes like the sun setting or rising over the ocean or snow-capped mountain peaks emerging over a lake. Convenient, dedicated parking is located right outside the space's door.
CHOC's pediatric sleep program features a multidisciplinary team including board-certified sleep medicine pulmonologists and neurologists, as well as psychologists and trained sleep technologists. The sleep team also collaborates with a number of multi-disciplinary clinics and programs, including otolaryngology, plastic surgery and more. Every family is valued as a central part of the care team and they are consulted every step of the way.
CHOC's comprehensive sleep studies evaluate breathing, brain activity, heart activity, oxygen content in the blood, chest and abdominal wall movement, muscle activity and the amount of air flowing through the nose and the mouth.
Additionally, the center performs CPAP/BiPAP titration studies to fit for a proper mask size and calibrate air flow while the child sleeps. CHOC also provides outpatient specialty care for kids who have sleep problems but don't require a sleep study, and for children who require CPAP/BIPAP services.
Both CHOC sleep centers are accredited by the American Academy of Sleep Medicine, the gold standard by which the medical community and the public evaluate sleep medicine facilities.