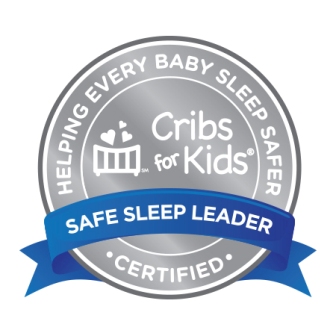 CHOC Hospital has been nationally recognized as a certified "Safe Sleep Leader" for a commitment to promoting infant safe sleep through best practices and education of staff and families, and is one of just three children's hospitals in the state to earn the distinction. The National Safe Sleep Hospital Certification Program was created by Cribs for Kids®, an organization dedicated to preventing sleep-related deaths due to accidental suffocation.
"Sleep-Related Death (SRD) results in the loss of more than 3,500 infants every year in the U.S.," explains Michael H. Goodstein, M.D., neonatologist and medical director of research at Cribs for Kids®. "We know that modeling safe infant sleep in the hospital and providing education to families has a significant effect on infant mortality.  Cribs for Kids Hospital Certification Program is designed to recognize those hospitals that are taking an active role in reducing these preventable deaths."
Among the activities that earned CHOC the silver-level certification was forming a multi-disciplinary safe sleep committee, developing a safe sleep policy statement, using wearable blankets to model no loose bedding in cribs, providing family/caregiver education, and expanding staff training. Staff knowledge of and compliance with best practices are consistently reinforced through learning modules, safety huddles, staff meetings and monthly audits.  Additionally, nurses and therapists in CHOC's neonatal intensive care unit develop individualized safe sleep plans for every fragile baby under their care.
"We are proud to be certified as a Safe Sleep Leader.  While this honor is gratifying, the true reward for our providers, nurses and staff is providing the highest levels of safe, quality care," says Dr. James Cappon, CHOC's chief quality and patient safety officer. "We take our role as a pediatric healthcare leader very seriously and will continue to advocate for the health and safety of infants, children and teens."
As a Level I pediatric trauma center, the only one in Orange County, CHOC is dedicated to injury prevention. CHOC's trauma center treats more than 10,000 children with injuries every year. Most of these injuries are predictable and preventable.  By providing education, research and evidence-based programs in collaboration with the community, CHOC's injury prevention and community education teams strive to make Orange County the safest county in America.