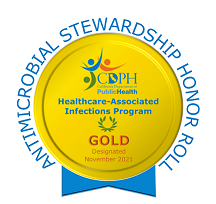 The California Department of Public Health (CDPH) has recently named CHOC to its Antimicrobial Stewardship Honor Roll with the distinction of "Gold" status.  CHOC is one of only 41 hospitals in the state to earn the honor, which reflects the highest commitment to promoting the appropriate use of antimicrobials, including antibiotics.
Because of their widespread availability, generally lower cost, and relatively good safety record, antimicrobials, which kill or stop the growth of microorganisms, are commonly misused medications; this has resulted in a public health problem. CDPH estimates that more than 2.8 million illnesses and 35,000 deaths are attributed to infections with bacteria that are resistant to one or more of the antibiotics designed to treat those infections. Among Californians, this translates to roughly 360,000 illnesses and nearly 4,500 deaths.
CHOC's antimicrobial stewardship program was designed to:
increase infection cure rates;
improve patient outcomes;
reduce treatment failures and other adverse effects;
lower Clostridioides difficile infections, a life-threatening inflammation of the colon that accounts for roughly half a million infections in the country each year;
lessen antimicrobial resistance; and
decrease hospital costs and hospital lengths of stay.
"Our entire organization is dedicated to advancing safe, high-quality care.  This latest honor is a tribute to the passion and diligent work of a multidisciplinary team, including leaders from pharmacy, quality, infectious diseases, infection prevention, and microbiology laboratory services, as well as the nurses, doctors and pharmacists who directly interact with our patients and families each day," explains M. Tuan Tran, PharmD, BCIDP, infectious disease pharmacist at CHOC.
Achieving CDPH's top honor for antimicrobial stewardship involved a rigorous three-phase application and review process. The first phase entailed reviewing each application for missing documentation and evaluating each program's core elements.
The second phase consisted of reviewing the outcomes portion of the application for those applying for Silver or Gold status, and the community engagement portion for those applying for Gold. For the review of the outcomes portion, external blinded reviewers along with CDPH internal reviewers were engaged in the process. The external reviewers consisted of antimicrobial stewardship experts representing different facility types: community, academia, major teaching, and communities with special populations. They reviewed each outcomes section similarly to how one review a scientific abstract looking for effective interventions and clinically meaningful outcomes.
In the final phase, each applicant's program was reviewed in its entirety, evaluating each program's quality and impact.