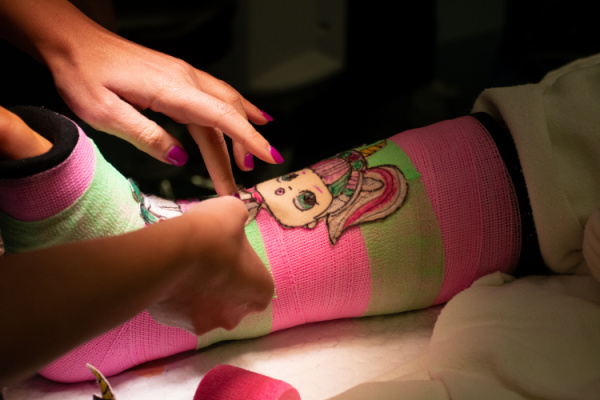 Straight from an orange toolbox and the imagination of a CHOC anesthesiologist came shapes of hearts and football, characters from beloved sci-fi and animated films, and an L.O.L. Surprise doll.
These are just some of the artworks that Dr. Christine Ayoub has created on patients' casts in the last year. She has decorated over 150 casts with each getting more intricate, and leaving a patient feeling even more special.
Finding the light
The idea came to her at the start of the COVID-19 pandemic when her and her colleagues were struggling to find brightness during a globally dark time.
"I'm an anesthesiologist," says Dr. Ayoub. "So, I don't normally interact with the casting process during surgery, but we were all looking for a little light in our lives — kiddos included. I began drawing small designs during surgery and soon, the process gave everyone in the operating room something extra to look forward to."
In the beginning, she would draw what she could in what time would allow and what materials she had in the moment. Many of her designs are thought of on the fly and done with a quick search on the internet for a drawing reference. Over time, she learned to perfect her craft on a separate piece of casting material, cutting the design out carefully and then, working with the orthopaedic surgeon to coordinate the final cast color to her artwork.
Soon after, her drawings included notable children's characters. One of her first characters was Goofy. As her artwork grew in intricacy, so did her collection of different colored wraps and markers, which all currently fit inside an orange toolbox.
Taking requests
Before surgery, Dr. Ayoub would talk to the parents and give them an overview of how the anesthesia process will go, which left little room to speak to the patient. After cast designing, she realized it was a way to engage and connect with the child as well. She could talk to them about what their favorite character or colors are—allowing the patient to have control and provide them with a form of distraction.
Sadie, the patient who received one of the first characters, was in for another surgery and she remembered Dr. Ayoub and Goofy, created by the Walt Disney Co. This time, she was prepared with a request for her cast: an L.O.L. doll with pink and teal colors.
"When the patient gets to focus on something they really enjoy, it makes their experience a little brighter, and we're always looking for ways to infuse small moments of joy," says Dr. Ayoub.
The best one yet
The process of designing is almost a therapeutic one for Dr. Ayoub. She is focused. Her eyes move from the patients' vitals, to the reference image of the L.O.L. doll to her version of the character unveiling itself on the casting material.
When asked where this talent of drawing comes from, she laughs, saying, "They are just my humble versions of these characters. I'm not an artist."
But her patients, families and colleagues would all disagree.
When the L.O.L. doll is complete, she shows it around the operating room.
"That's your best one yet," a colleague complimented.
"Sadie is going to love it," shouted another colleague.
Dr. Ayoub carefully places her design on the pink and teal-colored cast that is now on Sadie, but there is one more task to be completed. She wraps the leg of Sadie's stuffed bear in the same colors — giving the two matching casts.
When Dr. Ayoub started this idea, her main goal was to create light during a dark time. It's safe to say, she continues to meet her goal.